At Grove Avenue Family & Cosmetic Dentistry, our top priority is your oral health! We have been serving patients in the Richmond area for almost 20 years with comprehensive dental care for the entire family. Our team of dentists at Grove Avenue are highly trained in all areas of dentistry from preventative care to cosmetic procedures and oral surgery.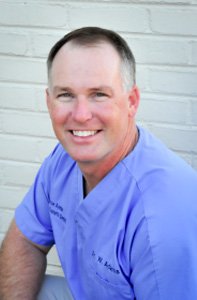 Dr. Adams believes that excellence in dental practice requires on-going education and commitment to strong ethical standards. His role is to ensure that all staff members and doctors participate in continuing education and apply best practice procedures to assure that patients receive the best and most effective dental care.
Education and Training
Dr. William Adams is a native of New Bern, North Carolina. Dr. Adams education and training includes:
B.S. from East Carolina University
Masters in Molecular Biology at the University of North Carolina Chapel Hill.
Dr. Adams graduated with honors from the Medical College of Virginia School of Dentistry
Completed a general practice residency at the Medical College of Virginia and Hunter McGuire Veterans Hospital
Advanced training in:

oral implantology
surgical periodontics
oral surgery
full mouth rehabilitation
certified in IV conscious sedation
Personal Interests
Dr. Adams, and his wife, Dr. Courtney Adams, have four children. He enjoys spending time with his family, running, and boating.
At Grove Avenue Family & Cosmetic Dentistry, we are dedicated to providing a superior wide range of dental services for your whole family. From kids to grown ups, we strive to make you feel comfortable, relaxed and informed about proper oral hygiene techniques so you can maintain good oral health between visits. We are here to listen to your questions and concerns and to provide you with solutions leading to better oral health. Call (804) 285-1378 or schedule an appointment online.