Dr. Ashley Epperly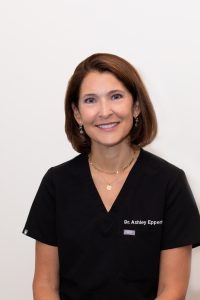 Dr. Ashley C. Epperly is from Hanover County, Virginia. Dr. Ashley Epperly graduated from University of North Carolina at Chapel Hill with a B.A. in Industrial Relations. After graduation she took a position as vice president of her family's dry‐cleaning business. After two years in this position, she enrolled in Virginia Commonwealth University where she concentrated on her science courses in preparation for a career in dentistry. She was accepted to attend the Virginia Commonwealth University School of Dentistry and graduated Magna Cum Laude. Upon completion of dental school, she was accepted as a resident in the Virginia Commonwealth University School of Dentistry Advanced Education in General Dentistry Residency Program. During that year of advanced study Dr. Ashley Epperly focused on comprehensive cosmetic and restorative dentistry. Dr. Ashley Epperly has been in private practice since graduation. She was inducted as a Fellow of the Pierre Fauchard Academy International Honor Dental Organization in 2018. In January of 2022 she completed a Fellowship in Forensic Dentistry at the University of Tennessee, Knoxville, and currently assists the Virginia Office of the Chief Medical Examiner when needed.  She took a medical leave of absence from dentistry in 2021 and currently works in an administrative role at the office.
Dr. Ashley C. Epperly has been married to her husband, David, for 24 years, they share four children. Dr. Epperly enjoys watching her kids play sports and the beach.
Dr. Epperly enjoyed helping people restore their smiles. She continues to visit with her previous patients and educates them on good oral health. A healthy mouth and a beautiful smile mean so much.
Professional Organizations
VDA (Virginia Dental Association)

ADA (American Dental Association)

RDA (Richmond Dental Association)

AAFS (American Academy of Forensic Sciences)

ASFO (American Society of Forensic Odontology)

AGD (Academy of General Dentistry)