Why is Preventative Care Important?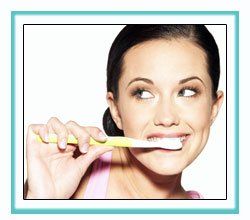 Oral disease is entirely preventable when responsible daily oral hygiene habits at home are combined with regular professional dental care. At each appointment,  our dentists and dental hygienists will provide a customized tooth cleaning accompanied by a thorough examination to detect the onset of any disease. It is our goal to help keep your smile healthy!
While we offer a wide range of restorative dental care services for times when problems pop up, our hope is that routine dental care and preventative services will minimize your need for more extensive care.
What goes in to preventive dental care?
Dental cleanings and hygiene: During your hygiene visits, we remove plaque from your teeth that can cause cavities and infections.
Dental exams: A dental exam involves checking each tooth for signs of decay or damage and inspecting for possible gum disease.
Oral Cancer Screening: We examine patients for signs of mouth and/or throat cancer. The screening will consist of a visual inspection of the mouth and palpation of the jaw and neck.
Periodontal care: Periodontal therapy is employed when you have symptoms of gum disease.
Children's dentistry: Children require special attention to make sure they're developing properly and to keep cavities from forming during these vital years. That's why our children's dental care includes fluoride treatments and dental sealants.