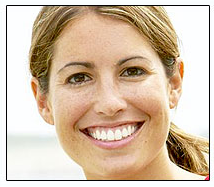 At Grove Avenue Family & Cosmetic Dentistry, our dentists see it every day: smiling and laughing are reactions that makes you feel good and they are scientifically proven to improve your mood and your health. However, if you have damaged or missing teeth, you may be missing out on these benefits, hesitating to share your smile and laugh with others.
Through cosmetic dentistry, you can improve your smile's appearance while increasing your mental health. The mental health benefits of a beautiful smile include:
Feeling more comfortable in social situations.
Releasing natural endorphins and dopamine each time you smile, which boost your mood and facilitate relaxation.
Decreased social anxiety.
Relief of stress caused by nagging dental concerns, such as bone loss.
Cosmetic dentistry refers to a broad range of treatment options, including veneers, crowns and dental implants. In-office whitening options are also available, if you simply wish to to brighten an already healthy smile.
If you want to replace one or more teeth, dental implants may be the best option. Unlike dentures, dental implants do not require routine upkeep and maintenance. Additionally, they look and feel like your natural smile.
Common forms of cosmetic dentistry include:
Porcelain Veneers
Bridges
Bonding
Crowns
Reconstructive Dentistry
Don't let concerns about your teeth's appearance keep you from feeling confident any longer. Grove Avenue Family & Cosmetic Dentistry offers many cosmetic and general dentistry options suited to the needs of each patient and individual treatment plans. If you're ready to take the first step to a new, wonderful smile, please contact us for a complimentary cosmetic dentistry consultation at (804) 285-1378 or fill out our brief online scheduling form.