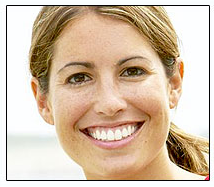 Having a beautiful smile may be even easier than you think. Many people achieve the look they've been dreaming of with our simple "teeth whitening" procedure.
Dental bleaching can be used to correct many tooth discolorations. These discolorations may have been caused by staining, aging, or chemical damage to teeth. Using the latest in bleaching technology, we can offer a safe method for creating a beautiful, "brilliant" smile.
Benefits of Teeth Whitening
It's safe, quick, and inexpensive.
Corrects brown, yellow and mottled tooth staining.
Works on people of all ages.
Is a near permanent solution for a "dull" smile, restoring brightness and bringing a smile alive.
Whitened teeth tend to look healthier, more youthful and attractive.

Whiter, brighter teeth can increase your self-esteem and confidence.
Tooth Whitening Options
We offer in-office whitening, and two take-home whitening options.  In-office whitening takes about two hours. While you sit in the dental chair, we can offer you music to listen to or your favorite TV show to watch. In addition, you can bring your own music and headphones, bring a book to read or just enjoy the quiet.  Your dental technician will apply three separate 20 minute sessions of dental bleach.  After those sessions, your teeth will be lighter.  Some of the change will be due to dehydration of the teeth during the procedure. While this doesn't hurt the teeth, it can add to the "whiter" appearance of the teeth. After a day or two the tooth color will change slightly due to rehydration of the teeth.  Your technician will also create a set of bleach trays for you to take home to continue the bleaching process if you choose. Some bleach syringes will be given to you at this appointment, but additional syringes will need to be purchased if you need more.  Most patients are happy with the whitening results after the in-office procedure, but some choose to continue to bleach at home in order to achieve the desired result.
We have two take-home whitening options. The first take-home option is the Opalescence GO.  This product is a whitening option that has ten one-size fits all sets of trays with the bleach already placed inside them. This is a wonderful option for our teenage patients, patients in clear aligner treatment or during on-going dental treatment. It is a great option for traveling, sharing among family members and can be used for all patients with differing dentitions.  The second take-home option is to have clear trays made that specifically fit your teeth and use whitening syringes to fill the trays. With this option the take-home trays require an appointment for the molds to be made and a follow up appointment for the trays to be delivered to you with instructions on how to apply the bleach.  You would need to purchase new bleach every year as there is an expiration date on these products.  Take-home options usually take about 10 days to 2 weeks to achieve the desired result.