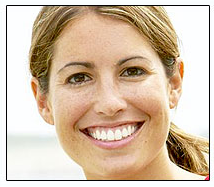 Having a beautiful smile may be even easier than you think. Many people achieve the look they've been dreaming of with our simple "teeth whitening" procedure.
Dental bleaching can be used to correct many tooth discolorations. These discolorations may have been caused by staining, aging, or chemical damage to teeth. Using the latest in bleaching technology, we can offer a safe method for creating a beautiful, "brilliant" smile.
Benefits of Teeth Whitening
It's safe, quick, and inexpensive.
Corrects brown, yellow and mottled tooth staining.
Works on people of all ages.
Is a near permanent solution for a "dull" smile, restoring brightness and bringing a smile alive.
Whitened teeth tend to look healthier, more youthful and attractive.

Whiter, brighter teeth can increase your self-esteem and confidence.
How it works
We take an impression of your teeth in order to make a specialized "mouthguard" or "stent" to hold the bleach against the teeth. We provide you with a special bleaching agent that you put into the clear, almost invisible splints. The material is used each night for a few hours for a week or two, after which significant whitening will occur.