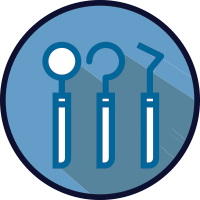 Grove Avenue Family Dentistry is so pleased to announce that we are participating in Freedom Day USA! On October 13 2017, during the hours of 7 am through 3 pm, we will be offering free dental care to our military. Veterans, retired or active military members, and family member of military personnel are eligible to receive care.
Freedom Day USA was started in 2012 as a way for local dentistry offices to give back to their military community. Wendy Boyce, the National Marketing Director for Freedom Day USA, states "there is a significant unmet need among military veterans and their families for basic oral care." Because of this lack of affordable care and because of his belief that our military members deserve to be shown gratitude for their service, Dr. Robert Martino, DDS, founded Freedom Day USA. The annual goal is that our military members and their families could receive the oral care they need while the community could give a heartfelt thanks for all that they do.
All dental services provided to military members on this day by participating offices are completely free, nationwide. We at Grove Avenue Family Dentistry ask that any military personnel, veterans, or family members in need of our services call us at (804)285-1378 to schedule an appointment so that we can see to your dental care, and so that we can tell you thank you for all that you do!