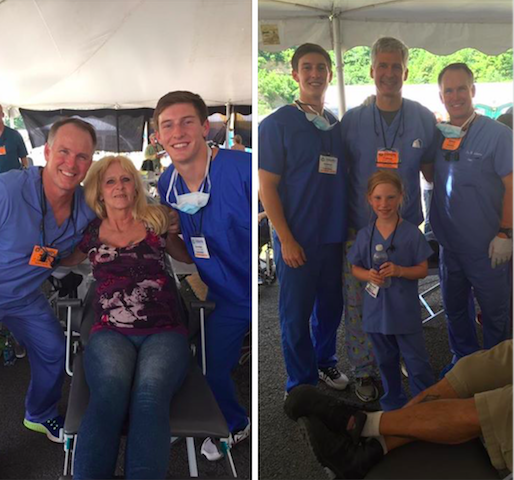 Our very own Dr. Adams volunteered his time and skills at the annual MOM Project event in Wise, Virginia. The MOM Project is a 2 ½ day dental clinic conducted each year to provide free dental services to those in need. There is a profound need for access to affordable dental services in Southwest Virginia which led to the launching the MOM project in Wise County in 2000. Since that time, 19,060 Southwest Virginia area patients have received free dental care valued at $ 15.3 million. Dr. Adams performed extractions and other dental procedures for those in need. Dr. Adam's and Grove Family Dentistry is grateful to be a part of such an incredible project alongside other dentists in the community.
To address the overwhelming need for access to free oral health care, Dr. Terry Dickinson, executive director of the Virginia Dental Association, created the Mission of Mercy (MOM) program to provide high-quality dental care for underserved Virginians. The MOM program operates mobile clinics in strategic locations across the state, providing preventive, restorative, and surgical dental treatments to more than 4,000 low-income individuals each year. Wise MOM is made possible by partnerships with the Virginia Dental Association, VCU School of Dentistry and Dental Hygiene, The Health Wagon, Remote Area Medical, Virginia Healthcare Foundation and a host of other sponsors.
The MOM event is a fantastic way for us to give back to the community and help those who may not be able to access quality dental care.  We make it our mission to educate our communities about good oral health care and to provide exceptional care to everyone, everyday.