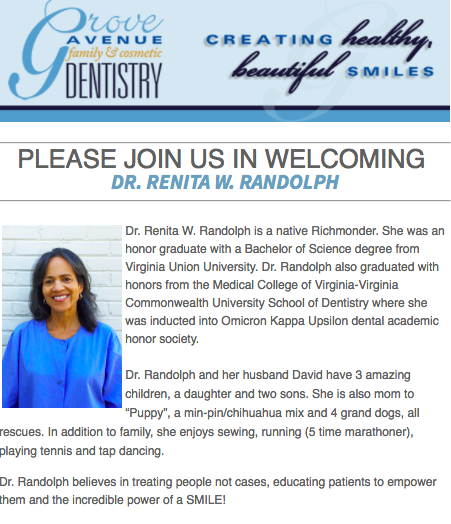 Welcome Dr. Renita Randolph to the Grove Family Dentistry Team!  We are so glad you're here!
Dr. Randolph is a native of Richmond, who graduated from Virginia Union University and the from the Medical College of Virginia – Virginia Commonwealth University School of Dentistry with honors.  She spends her time parenting her children, both human and canine, and spending time with her husband.  Dr Randolph is marathon runner, a tennis player, and a tap dancer.  She also spends what little time she has sewing.
Dr. Randolph believes that people are her patients, not their teeth, and that beautiful smiles give confidence to her patients. She wants to educate her patients and empower them to believe in the power of their own smiles.  Dr. Randolph is a fantastic addition to our team and we are thankful to have her join us.
To schedule an appointment with Dr Randolph, or any of our excellent dental providers, contact us  at Grove Avenue Family & Cosmetic Dentistry.  We will be happy to see you soon!